Events in the New York City/New Jersey Area
We have some of the greatest entertainment in the world!
Though it is beyond the scope or purpose of this site to list all events as there are so many of them, here are some of the best sites to find the most updated lists. To get you started:
I would also suggest two local bookstores that have many celebrity and sports appearances:
Books and Greeting in Northvale, NJ
http://www.booksandgreetings.com/
For Local Live Theater in NJ, see the home page. Anywhere else on the planet? Check your local newspaper or online events guide. Coming soon; The Ultimate Events Listing for NYC
No matter where you live on this planet:
Always visit the website of entertainers or the shows they are on if you are interested in seeing them as they usually list their appearances. Or follow them on Twitter. Some soap and reality sites will also list appearances. Ticketmaster and other tickets sites will also list shows, and you can sign up for weekly emails, but these are ticketholder events. Most local newspapers have an Events section for their areas as well. Try bookstores as well for celebrity signings.
For shows and concerts try these:

FEATURED EVENTS and REVIEWS
Event: I Put A Spell On You: ALIVE at Sony Hall and on Broadway on Demand October 23, 2022 Filled with Broadway Stars to Benefit Broadway Cares/Equity Fights Aids

New York's Axial Theater Presents John Logan's Play NEVER THE SINNER, Directed by Daytime Emmy Winner Cady McClain Starring Bruce Apar, Tom Ryan, Albi Gorn in November 2022
Days of Our Lives'
Marci Miller Goes Back to Her Roots as Special Guest Actor for Axial Theater's Cactus Flowers Play Reading May 15, 2022
Axial Theater Presents Free Reading of Short Plays with NAACP and Ovation Award Winner, Bosch Star Dominic Hoffman April 24, 2022
Event: Trent Dawson and Michael Park to Appear at Inaugural Event for Katonah Classic Stage in NY - Actors, Crew Positions Available
https://www.suzeebehindthescenes.com/2020/03/event-trent-dawson-and-michael-park-to.html
Event: Acting for Beginners - Learn about the Acting World or Becoming an Extra
https://www.suzeebehindthescenes.com/2020/02/event-acting-for-beginners-learn-about.html
Move over ComicCon There's Something Bigger - Hallmark Christmas Stars Come to NJ at the First Ever Christmas Con!!
https://www.suzeebehindthescenes.com/2019/10/move-over-comiccon-theres-something_19.html
Review: Paper Mill Playhouse's Chasing Rainbows - The Road to Oz is a Journey You'll Want to Experience
https://www.suzeebehindthescenes.com/2019/10/review-paper-mill-playhouses-chasing.html
The Sandman Goes to the Beach and Makes Waves: Review of Adam Sandler at the Hard Rock in Atlantic City with Rob Schneider
https://www.suzeebehindthescenes.com/2019/06/the-sandman-goes-to-beach-and-makes.html
Review of My Very Own British Invasion at the Paper Mill Playhouse in NJ: You're Into Something Good! - Peter Noone's Musical will have you Rockin' and Rollin'
https://www.suzeebehindthescenes.com/2019/02/review-of-my-very-own-british-invasion.html
Review: The Color Purple at NJ's Paper Mill Playhouse Directed by John Doyle: A Powerful, Heartwarming and Beautiful Musical Adaptation of Alice Walker's Famed Novel
By Beth Abramson Brier
https://www.suzeebehindthescenes.com/2018/10/review-color-purple-at-njs-paper-mill.html
Event: New York City's Morphmom Conference: Make Your Passion Your Reality and Hear from Inspiring Women October 23, 2017
http://www.suzeebehindthescenes.com/2017/10/event-new-york-citys-morphmom.html
New Jersey Performing Arts Centers Celebrates 20 Years: Complete 2017-2018 Season Listing includes Bill Clinton, Ringo Starr, Izthak Perlman, Yo Yo Ma, Daniel Tiger, YES, Temptations, Shen Yun, Classical and Hip Hop Performances and More
Read

more

:
http://www.suzeebehindthescenes.com/2017/06/new-jersey-performing-arts-centers.html
From Manhattan to Brooklyn and Back: Tracy Morgan Returns to NJ - See Him Live at Bergen PAC in 2016
Actor/Comedian Tracy
Morgan
makes a triumphant return to the Garden State after his tragic accident on the NJ Turnpike. Back and better than ever, as shown on his recent appearance hosting Saturday Night Live, Tracy is sure to delight audiences with his humor and stories. Tickets are on sale now for
his April 2nd, 2016 appearance at
Bergen PAC in Englewood NJ
,
just outside of Manhattan. For tickets:
visit
www. BergenPac.org
Tracy recently visited Jimmy Kimmel while filming in Brooklyn. Tracy took Jimmy on a tour of his "very own" zoo: Click here for video and rest of article:
Second Annual Celebrity Food and Wine Show Features Food Network Chefs and ABC's Lori Stokes
The Clinton Inn will be the backdrop the
Second Annual Celebrity Food and Wine Show,
an exciting afternoon of tasting and friendly competition to help local people in desperate need. The
Giants of
Generosity
, a non-profit that provides assistance to needy people in the New Jersey area, will be the beneficiary of the day's festivities. Tickets are $65 each for the event which runs from 1:00pm to 4:00pm on March 22, 2015.
For full article click here:
Review: Sofia Restaurant in Englewood, NJ: Tasty American and Italian Cuisine in a Contemporary Setting
https://www.suzeebehindthescenes.com/search?q=sofia+restaurant
NY Giant Jessie Armstead: Launching a New Car with A Little Help From his Friends
https://www.suzeebehindthescenes.com/2014/06/jessie-armstead-launching-new-car-with.html
Project LadyBug/Deborah Hospital Foundation
Fundraiser with RHONJ
____________________________________________________________________________
__
EVENT: Dina Manzo Fundraiser
Meet Dina Manzo, Theresa Guidice and Kathie Walkie:
Last Chance, Tickets Going Fast!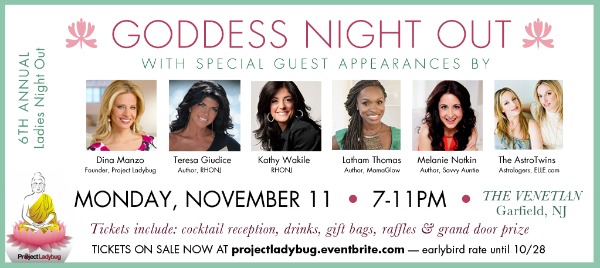 _________________________________________________________________________________
Ramsey, NJ - Real Housewife of New Jersey Teresa Giudice will conduct a book signing and sampling of her new sparkling wine at Gina Avino's Artistic Design Studio, 103 East Main Street in Ramsey on June 17th from 7-9pm. Copies of her latest cookbook, Fabulicious! On The Grill will be available for purchase and can be signed by Teresa. Light refreshments will be served and there will be an opportunity to sample Teresa's new sparkling wine, Fabellini.
Fabulicious! One the Grill is Teresa's fourth cookbook. Teresa is featured on the Real Housewives of NJ, which started its new season on June 1st. Gina Avino is an interior designer with over 25 years experience. Her store features handpainted furniture, floral designs, window dressings and fine decorative accessories. The event is open to the public. For more information contact Gina Avino at 201-825-2232 or www.ginaavinodesign.com.