Events in the New York City/New Jersey Area
We have some of the greatest entertainment in the world !
Though it is beyond the scope or purpose of this site to list all events as there are so many of them. I will list some of the best sites to find the most updated lists. To get you started:
I would also suggest two local bookstores that have many celebrity and sports appearances:
No matter where you live on this planet:
Always visit the website of entertainers or the shows they are on if you are interested in seeing them as they usually list their appearances. Or follow them on Twitter. Some soap and reality sites will also list appearances. Ticketmaster and other tickets sites will also list shows, and you can sign up for weekly emails, but these are ticketholder events. Most local newspapers have an Events section for their areas as well. Try bookstores as well for celebrity signings.
For shows and concerts try these:
For Local Live Theater in NJ, see the home page. Anywhere else on the planet? Check your local newspaper or online events guide. Coming soon; The Ultimate Events Listing for NYC
FEATURED EVENTS:
New Jersey Performing Arts Centers Celebrates 20 Years: Complete 2017-2018 Season Listing includes Bill Clinton, Ringo Starr, Izthak Perlman, Yo Yo Ma, Daniel Tiger, YES, Temptations, Shen Yun, Classical and Hip Hop Performances and More
Read

more

:
http://www.suzeebehindthescenes.com/2017/06/new-jersey-performing-arts-centers.html
From Manhattan to Brooklyn and Back: Tracy Morgan Returns to NJ - See Him Live at Bergen PAC in 2016
Actor/Comedian Tracy
Morgan
makes a triumphant return to the Garden State after his tragic accident on the NJ Turnpike. Back and better than ever, as shown on his recent appearance hosting Saturday Night Live, Tracy is sure to delight audiences with his humor and stories. Tickets are on sale now for
his April 2nd, 2016 appearance at
Bergen PAC in Englewood NJ
,
just outside of Manhattan. For tickets:
visit
www. BergenPac.org
Tracy recently visited Jimmy Kimmel while filming in Brooklyn. Tracy took Jimmy on a tour of his "very own" zoo: Click here for video and rest of article:
Second Annual Celebrity Food and Wine Show Features Food Network Chefs and ABC's Lori Stokes
The Clinton Inn will be the backdrop the
Second Annual Celebrity Food and Wine Show,
an exciting afternoon of tasting and friendly competition to help local people in desperate need. The
Giants of
Generosity
, a non-profit that provides assistance to needy people in the New Jersey area, will be the beneficiary of the day's festivities. Tickets are $65 each for the event which runs from 1:00pm to 4:00pm on March 22, 2015.
For full article click here:
Danny Aiello, Kris Jenner, Neil Patrick Harris and Gene Simmons to Appear at Bookends in NJ
Well I don't think that coming to a NJ bookstore was on the now-famous Neil Patrick Harris bucket list, which includes Sleeping in Cinderella's Castle and Meeting the President, but this well-known actor/entertainer/host appears to be making NJ his first

stop the

day he announced he will host the Oscars. You can see him at Books and Greetings on October 16th signing his new book,

Choose Your Own Autobiography

. This is a ticketed event.
Also on October 16th true Jerseyan

Danny Aiello

will be signing copies on his new book,

My

Life On the Street, On The Stage and In the Movies

. at Bookends in Ridgewood at 7pm. To Hollywood and back to star in a plethora or movies and TV shows including

Moonstruck

and

Do The Right Thing

this actor and producer, as I have personally heard him say, always comes back to Jersey and his wife and family. Not many people also know his musical side, check out his videos and music on:
To read full article click here:


Meet Christina Milian at Her Viva Diva Wines Bottle Signing in New Jersey


Project LadyBug/Deborah Hospital Foundation
Fundraiser with RHONJ
____________________________________________________________________________
__
Event: Legends for Charity Honoring
Michael Strahan in NYC
T
his promises to be a great events for a great cause. To be held at the Grand Hyatt on January 30, 2014 proceeds go to help St. Jude's Hospital. Michael Strahan will be honoroed, so expect a room full of sports figures as well as soap and other celebrities. For tickets go to www.legendsforcharity.com. Tickets are $500 each.
EVENT: Dina Manzo Fundraiser
Meet Dina Manzo, Theresa Guidice and Kathie Walkie:
Last Chance, Tickets Going Fast!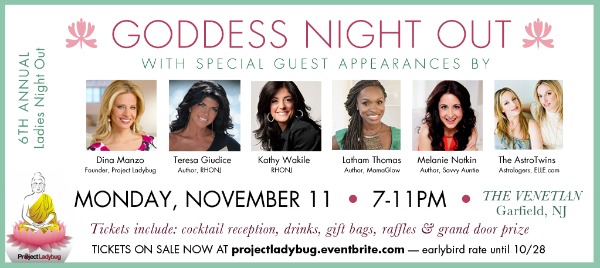 _________________________________________________________________________________
EVENT: WE LOVE SOAPS! is hosting a Soap Cruise. Visit Soapfancruises.com or WELOVESOAPS.com for more info!
____________________________________________________
EVENT: Jersey City Fashion Week 2013 September 25th-28th
Opening Night Red Carpet Party Wednesday September 25th at the Glamorous VB3
Sponsored by Hudson County Executive Thomas A DeGise and the Board of Chosen Freeholders
JCFW Super Celebration Women of Influence VIP Fashion Show & Reception 9-26
and JCFW Emerging Designer's Show September 28th featuring
JCFW Spokesperson Actor Marc John Jefferies
& Radio Personality Jeff Foxx WBLS FM & Sirius XM
VH1 Star and Billboard Recording Artist Jackie Madden Among Saturday Night Performers
Boardwalk Empire's Justiin Davis
WHO:
Meet the designers and models of JCFW and invited VIP's including Designs by House of Sadia; Honorees' Senator Sandra Cunningham (D) the 1st African American Senate Majority Whip an d Jersey City Resident, Linda Claude-Oben wife of former N.Y. Giant Roman Oben Super Bowl XXXVII champion and sportscaster. The red carpet will be hosted by Stephanie Jill Chernick Ms. New York United States 2013, and Heidi Ann Uracius, Ms New Jersey United States 2013. The program Mistress of Ceremonies is commercial and fit model actress Eva Agerbrink who played Blossom in the movie Fortunes (2005). Also invited Opening Night Mayor Steven M. Fulop and many more.
Fashion/Sports/Entertainment Industry Leaders
attending the 4-day JCFW Fashion in the park event include JCFW Spokesperson Actor Marc John Jefferies of Movie Notorious, Get Rich or Die Trying, Finding Nemo, Spiderman 2 and many more. Designer Douglas Says of B.E.T's popular R.I.P the Runway fashion show, Designer JustRaymona of Lifetime TV's reality Fashion show"24 Hour Catwalk; Spectrum Ideas, LLC's Fashion Executive Rafael Perez who began his design career by growing the Jlo Brand by Jennifer Lopez;
Mr. Perez designed for the likes of Phat Farm, Akdemiks and Baby Phat and a host of prominent brands.
Jeff Foxx
legendary WBLS and Sirius XM radio personality.
Lu Celania Sierra a powerhouse runway and print model discovered by the Zoli modeling agency in New York, Lu went on to became the first runway coach to have trained presently crowned 3 winners, Miss Universe, Miss USA, & Miss Teen USA; Mr. Donald Trump credits her as a key contributor to the presentation that makes the pageants successful
WFAN
Sportscaster Anita Marks of the New York Giants pregame show on WFAN; supporting our sports themed week are Danielle Conti, girlfriend of NYG Mark Herzlich, Farraw Germain, fiancée of NYG Jason Pierre-Paul, Laura Sorto and girlfriend of NYG Henry Hynoski.
____________________________________________________________________________
Ramsey, NJ - Real Housewife of New Jersey Teresa Giudice will conduct a book signing and sampling of her new sparkling wine at Gina Avino's Artistic Design Studio, 103 East Main Street in Ramsey on June 17th from 7-9pm. Copies of her latest cookbook, Fabulicious! On The Grill will be available for purchase and can be signed by Teresa. Light refreshments will be served and there will be an opportunity to sample Teresa's new sparkling wine, Fabellini.
Fabulicious! One the Grill is Teresa's fourth cookbook. Teresa is featured on the Real Housewives of NJ, which started its new season on June 1st. Gina Avino is an interior designer with over 25 years experience. Her store features handpainted furniture, floral designs, window dressings and fine decorative accessories. The event is open to the public. For more information contact Gina Avino at 201-825-2232 or www.ginaavinodesign.com.

________________________________________________________________________________

Meet Andy Cohen, Other Reality Stars at Poolside Summer Bash in NY