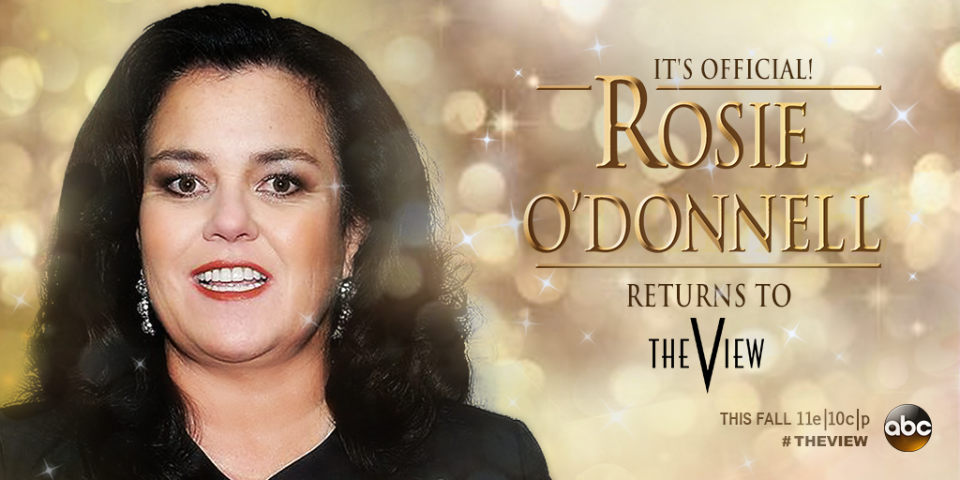 NJ Resident, comedienne and actress Rosie O'Donnell will rejoin THE VIEW next season. Jenny McCarthy and Sherri Shepherd have left two vacant seats, and now we know who will fill one of them.
Rosie O'Donnell had her own show for six seasons from 1996-2002. I am a big fan of daytime TV and I loved this show. It was humorous, educational and controversial. Amidst the clutter of dating shows and who the baby daddy is her show was filled with thoughtful commentary. I think this is a much needed push for the show since both Jenny and Sherri left and Elizabeth Hasselback, Joy Behar land Barbara Walters are gone..

Rosie has not left TV since she left her show. While raising her family she has still been active with her own show and has made many appearances on many TV shows, including such hit shows as Curb Your Enthusiasm, Drop Dead Diva, Nip/Tuck and Will and Grace.

And who could forget her in A League of Their Own or Sleepless in Seattle. Welcome Back.
To view the official tweet click here:
http://www.deadline.com/2014/07/rosie-odonnell-the-view-abc-return/