Glee Farewell Season Final Episode
Part 2 Recap: Dreams Come True
This is a recap for the second part of the final episode of the final season- and what a way to end. By Di's Dish
It's the present day, and the Glee club is at Nationals.
As Will prepares himself for the judges' decisions, he recalls his time as a student at Nationals.
His beloved coach, Lillian Adler, said that Glee is not about competition, but about something deeper - opening yourself up to joy. Joy abounds when the New Directions wins the 2015 Nationals Championship! Continue reading here:
http://www.suzeebehindthescenes.com/2015/05/glee-final-season-final-episode-part-2.html
Glee- The Farewell Season, Loser Like Me, Episode 1
By Di's Dish
As the one and only Julie Andrews sings in The Sound of Music, "let's start at the very beginning….." The premiere of Glee's farewell season has done just that.

The show has gone back to its roots.
This is readily apparent with the opening scene (and with the title of the show!). Rachel's hair and wardrobe look more, well, Rachel-like, and she goes straight into song after being dumped from her television show debut. I've watched Glee with my daughter from its inception and we weren't fans of the "new direction" that the show had taken in the past couple of seasons, so this homecoming is a welcome change.
Rachel heads back to
Lima
as her world is crumbling down. Her debut television show has been canceled, her dads are divorcing and the arts have been banished from existence at
McKinley
High School
. Facing a blurry future at best, Rachel decides to tackle the uphill battle of resurrecting the Glee club at MHS under the dictatorial regime of Principal Sue Sylvester.
Want the dish on Lea Michele's book? Click here:
To continue reading episode one recap click here:
Glee – "Transitioning" Season 6 Episode 7
Recap by Di's Dish
This outstanding episode
opens with Will reflecting on his newfound lifestyle as a result of being the well paid coach of Vocal Adrenaline. A fancy car (goodbye broken muffler) and perks such as massages, a nutritionist and lavish gifts are all part of the package. The motivated Vocal Adrenaline kids practice on their own accord, but can Will continue to tolerate their cutthroat ways? Has he sold his soul?
After Vocal Adrenaline eggs Blaine and Rachel, Will attempts to give the students a lesson about tolerance. His words are met with you-are-an-idiot eye-rolls and smirks. He brings Unique, a former Vocal Adrenaline and New Directions member, onstage for a duet of "
Same Love."
The students, led by insubordinate and intolerant Clint, don't care. Winning competitions is their singular focus. As a side note, the word tolerance alone seems like just the bare minimum. It would be satisfying to see the word acceptance added alongside. Click for full recap:
http://www.suzeebehindthescenes.com/2015/03/glee-recap-transitioning-groundbreaking.html
Glee -
"The Hurt Locker, Parts 1 & 2"
Sue smiles
and nods her way through a "bury the hatchet" lunch with Will, only to unleash her rage monster once again after Will leaves his fork behind at the table. So begins this two part episode of Glee – it's an opening scene in keeping with the humor of the characters and their long standing on again, mostly off again, relationship. Unfortunately, the next scene sets up the cringe worthy "Hurt Locker" theme, which is Sue's storage unit devoted to her hatred and vendettas with a hidden room dedicated to Kurt and Blaine's relationship, which Sue desperately wants to restore. Why couldn't the talented folks who create Glee go about this storyline in a more clever and funny way, as opposed to creepy?
Did we just see a shark being jumped?
For full recap click here:
http://www.suzeebehindthescenes.com/2015/02/glee-recap-hurt-locker-parts-1-2-final.html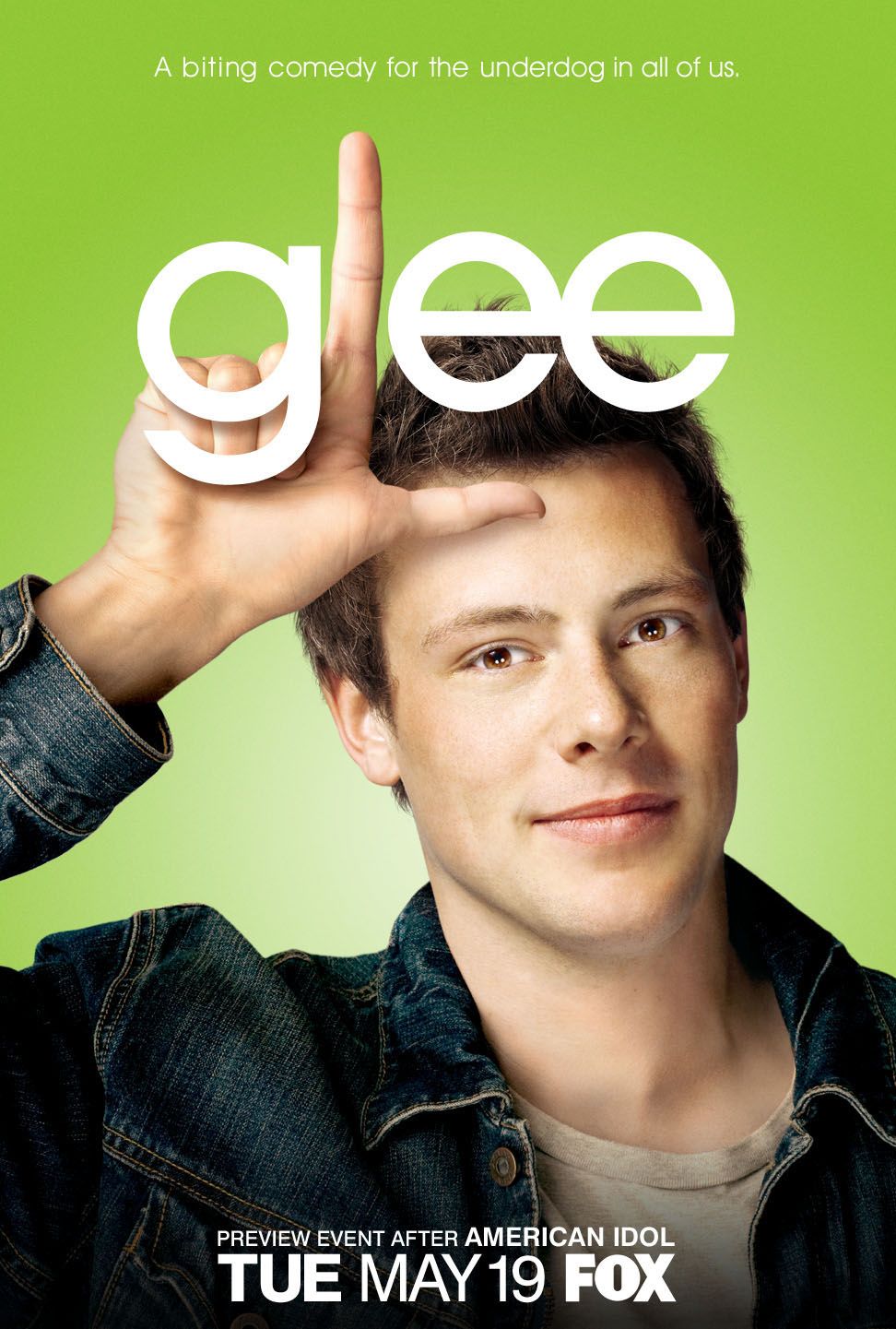 Courtesy of Fox
Goodbye Finn, Goodbye Cory
GLEE puts together a superb tribute in "The Quarterback."
I have been a fan of Glee from day one and have seen every episode. Finn Hudson was one of my favorite television characters of all time. He was lovable, talented, earnest, and was always trying to do the right thing. The creators of Glee tackled a difficult subject with the untimely death of Cory Monteith, and they delivered a tasteful and moving episode. They also delivered an essay on grieving.
The show opens beautifully with "Seasons of Love." The setting is spare and appropriate. The song is performed by cast members past and present, grouped into sort of a pecking order. This is a good choice. As a fan of the show, I did not think the newer characters should have a central role in the tribute. Their relationship with Finn was fleeting.
Click Here for full article:
http://www.suzeebehindthescenes.com/2013/11/dis-dish-tribute-to-glee.html
Mode
rn Family:
Watch it With Your Teen
This outstanding, Emmy award winning show on ABC has something for everyone.
Each character is extremely well developed and unique.
Each well-written episode contains humor (of course!) and small (not preachy!) poignant moments, all wrapped within a framework of everyday life circumstances.
Modern Family gives my 14 year old daughter and me the perfect reason to watch television together – we both love the show!
And that's a great way to bond.
The three family units, headed by Jay and Gloria, Mitchell and
Cam
, and Claire and Phil, are lovable, fun, frenetic and realistic. I don't have a favorite unit, as they are all equally entertaining with their own set of dynamics. However, my daughter and I agree that our favorite characters are Gloria,
Cam
and Phil. In our opinion, they are the funniest and most eccentric, all in an endearing way.
One of the episodes during the past season contained a story line about career day. Phil was giving a presentation at his son's school about being a real estate agent. His snarky competitor tries to disrupt the presentation, one-up him and make him look incompetent. Claire is asked to fill in extra time with talking about her career as a stay at home mother. Her insecurities come to the surface when a rude girl in the classroom grills her. Jay feels badly about not participating in career day because his closet organizer company just doesn't seem exciting or interesting enough. He then laments the road not traveled – writing a novel – something he always wanted to do but "life got in the way." This one story line ran the gamut of scenarios and feelings; I would guess that most adult viewers could relate to at least one, if not more (two of them were a slam dunk for me). And my daughter is watching and laughing from a kid's point of view. Win, win.
Another episode involved the family going to
Florida
because Phil's mom died. A heavy subject, to say the least. As I watched, I thought "how are they going to do this, tastefully, with humor?" Most of the humor was packed into the goings-on at the retirement community, which were captured and parodied brilliantly, and reminded me of "Del Boca Vista" from Seinfeld fame. This stuff was side splitting, laugh out loud funny if you've ever spent time with elderly parents (as I have) or grandparents (as my daughter has) at one of these communities. We are both enjoying this storyline and laughing. Win, win.
When I watch Modern Family with my daughter, I wonder if she will think about this show in her adult years in the same way that I reflect on All in the Family. Groundbreaking, funny, relatable, with characters so memorable that I can imagine Edith Bunker and Gloria Pritchett sharing girl talk over a cup of coffee.

-

Di's Dish is written by Diane, a suburban mom of two. Read more Dish from Di in future posts. Image owned by ABC.
Di's Dish:
Pretty Little Liars
- Good for Teens?
C
reepy
.
That one word easily sums up the recent season four premiere.
My 14 year old daughter and I regularly watch this popular teen drama. She watches for the suspense, story lines and cute boys, and I watch for the suspense, story lines and teachable moments, of which there are many.
The show starts off with a cliffhanger from the end of season three. Pretty Little Liars, overall, does a great job of hooking the viewer in. It's full of suspense, mystery and drama with a capital D in just about every scene. The main plot (is Alison really dead and who is A?) is supported by many subplots, and twists and turns abound. Just when a few questions are answered, plenty more pop up to keep the audience engaged and tuning in next week.
The four main characters, Hannah, Emily, Aria and Spencer, are perpetually well dressed, pretty (of course) and yes, they are liars whenever they have to protect themselves and further their quest for answers. They aren't exactly "little," however; they are supposed to be high school seniors, but carry themselves as if they earned their college diplomas a few years back. These girls, as a group, are confident bad asses. Case in point: toward the end of the season opener, they show up, dressed to kill, at the funeral for a Javert-like police officer who had harassed them relentlessly. They search his casket for a clue, and then proceed to sit in the front row of mourners!
Most of the supporting characters, both kids and adults, are scheming, evil or mean at times. And we are never quite sure if the characters that seem to be "good guys" truly fit that description. "Is there anyone on the show that you know for sure is all good?" I ask my daughter. She mentions a few characters (boyfriend Toby, boyfriend Ezra) but even they have actions that require an asterisk.
As a parent, I especially like the teachable moments. The show provides many over the top actions that don't warrant a discussion – "don't ever push a boy down a bell tower, honey" just doesn't seem like something that needs to be brought up! There are, however, more subtle behaviors that prompt discussion. Hannah befriends a girl in order to get information from her. Alison (the girl who disappears in the very first episode) is depicted as a mean girl with cutting remarks in flashback scenes. Alison's mother is adept at giving passive-aggressive compliments. And the list goes on.
The ever changing plot which keeps the viewer guessing and the cast of colorful characters all add up to a gripping show, one that makes for appointment tv for teens in an age of on demand everything.
Image owned by Pretty Little Liars.